LEARN HOW TO MAKE SIMPLE & DELICIOUS PLANT BASED RECIPES THAT WON'T BREAK YOUR BUDGET!


Get all the tools you need to start a whole food plant based diet quickly & easily with my
Quick and Easy Plant Based Power Pack
-
perfect for beginners!
Learn the

simple fundamentals

of a healthy whole food plant based diet that can improve your health, get tips to help you transition at your own pace, learn how to make delicious 30 minute recipes

with ingredients you can get at any grocery store, get a 14 day starter meal plan, discover

tips to lose weight

,

and so much more!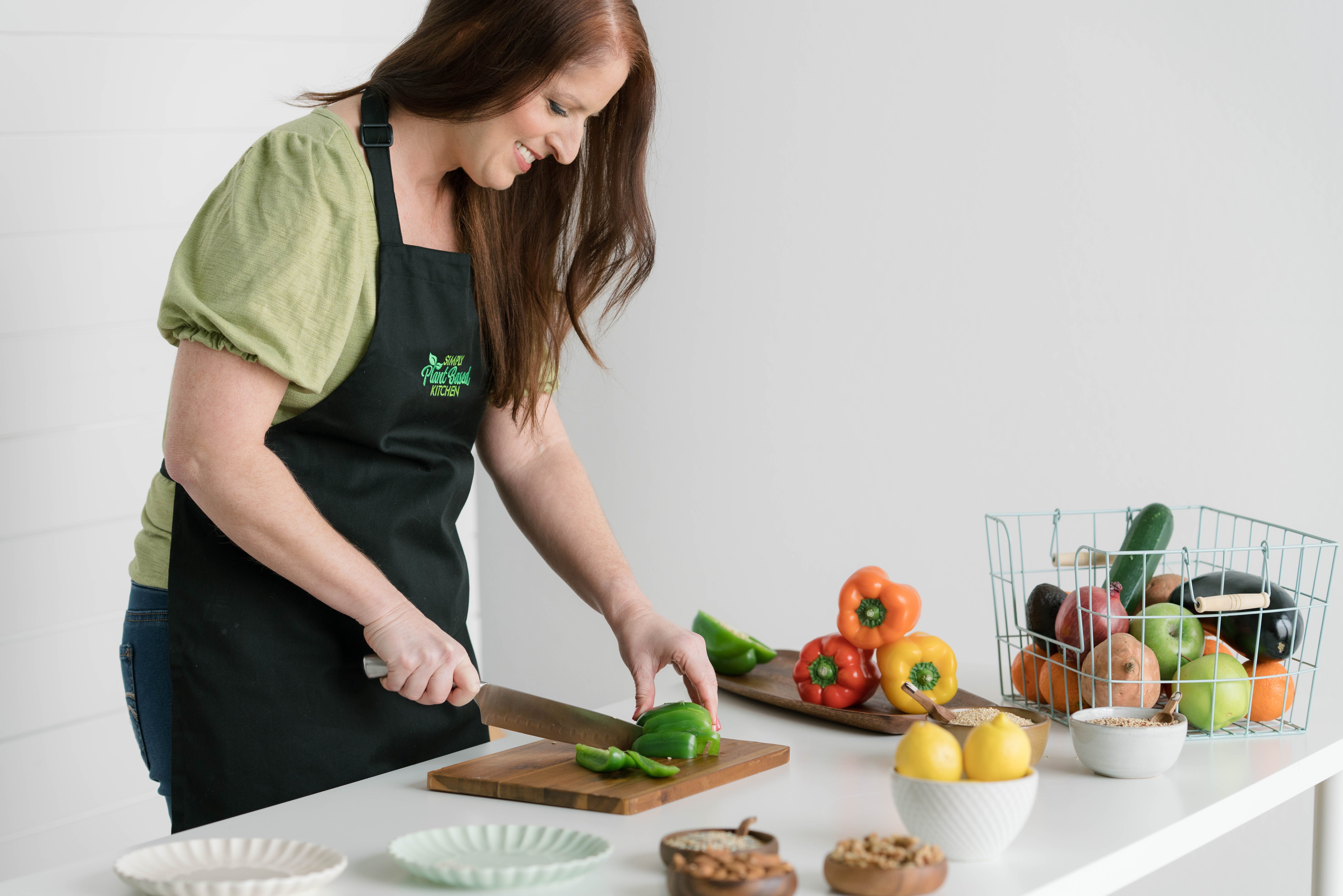 MAKE STARTING A PLANT BASED DIET SIMPLE & EASY
It can be confusing with all the conflicting nutritional information out there. You need
a plan that you can start TODAY without being overwhelmed
from someone you trust.
I'm a certified Plant-Based Health Coach, but I've also been in your shoes so I know how hard it can be in the beginning.
This is only available as a Digital Book - let's save some trees! 😊🌲
JUST IMAGINE HOW IT WOULD FEEL IF YOU COULD...

-Have plenty of great tasting whole food plant-based meals ready in
less than 30 minutes
, that your whole family will enjoy.


-Actually
feel excited and happy
about cooking, knowing that the recipes are simple with everyday ingredients you probably already have in your pantry.


-Know you can make plant-based eating a long term lifestyle and not a temporary diet that's too difficult to keep up with.


-Save time and stress not having to spend hours in the kitchen making complicated recipes that might not turn out good - these recipes are tested by my picky boys!


-Be able to improve your health and weight loss knowing you are eating 100% whole food plant based, no oil meals that whip up quick and easy.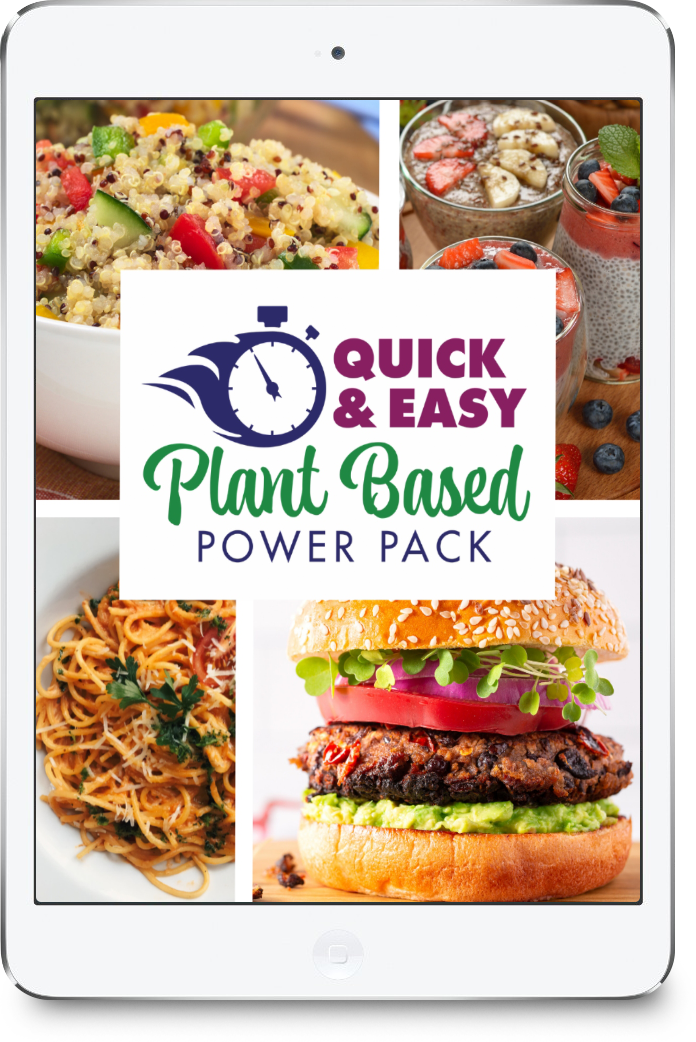 YOUR SECRET WEAPON TO FAST & EASY PLANT-BASED EATING
The Quick and Easy Plant Based Plan

, will teach you the whole food plant based basics to get you started today.

46 Delicious Whole Food Plant Based Recipes

that only take 30 minutes or LESS using common ingredients.
Nutritional info is included for all recipes.
14 Day Plant-Based Meal Plan

AND Grocery Shopping Lists

using only 30 minute or less recipes.

Weekly Meal Planning Template

so you can create your own customized weekly meal plan with your preferences.

7 Simple Oil-Free Dressings

that are ready in only 5 minutes.

15 Tips to Improving Weight Loss on a Plant-Based Diet to help you push past plateaus & know what foods to eat more of.
Printer-friendly PDF pages that also can be viewed on any device - smartphone, tablet, or computer.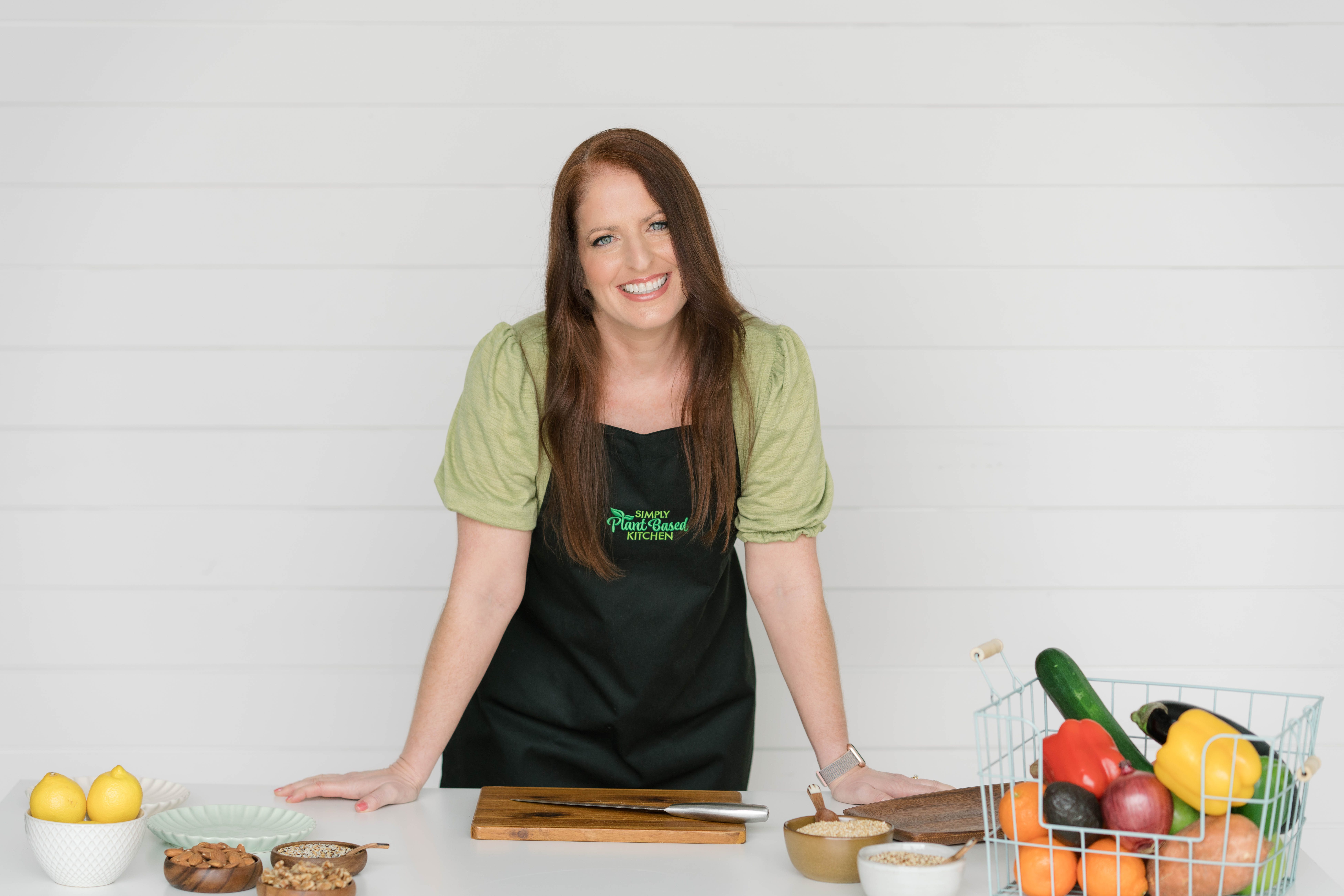 HEY THERE, I'M KIM!
Like you, I'm a busy wife & mom, and I know how hard it can be to begin a plant-based diet. In fact, several years ago I couldn't stick with it because I was so frustrated with the long, complicated recipes that tasted terrible. 
That's why I wanted to create meal plans all about fast and easy recipes that taste great! And easy enough that anyone can make - I'm not a fancy trained chef - just a Mom figuring out my way around the kitchen with normal plant-based ingredients. 
Learning how to make plant-based meals quickly, easily, and that still taste great has been a game-changer for me and our family and I want to help you do the same! 
I received my Plant-Based Nutrition Certificate through eCornell and the T. Colin Campbell Center for Nutrition Studies.



DELICIOUS RECIPES TO SUIT EVERY TASTE
From American comfort classics to world cuisines like Mexican, Italian, Asian, Mediterranean, Indian, & more, there is something for everyone! You won't get bored with recipes that all taste the same - there is a ton of variety and different flavors.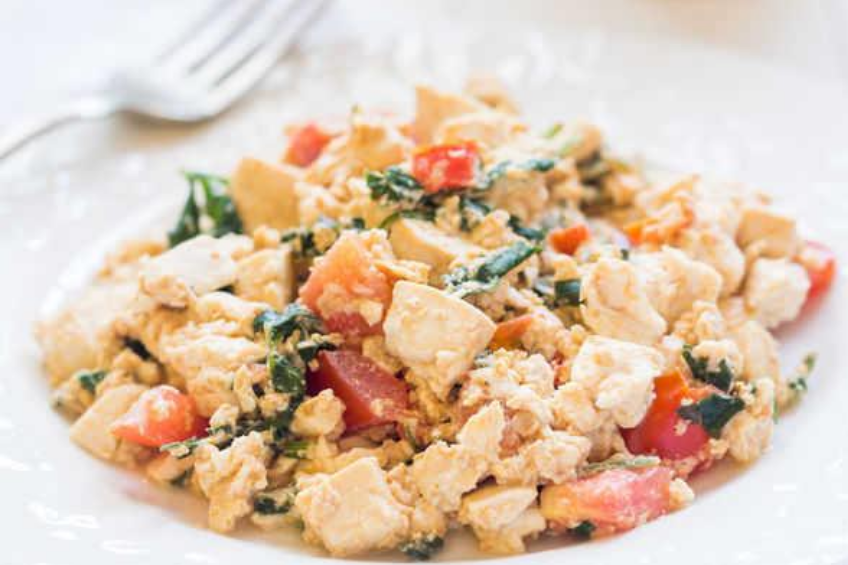 Arugula Avocado Toast

Tuscan Tofu Breakfast Scramble

Raspberry Banana Chia Seed Pudding

Whole Grain Blueberry Pancakes

Pineapple Power Smoothie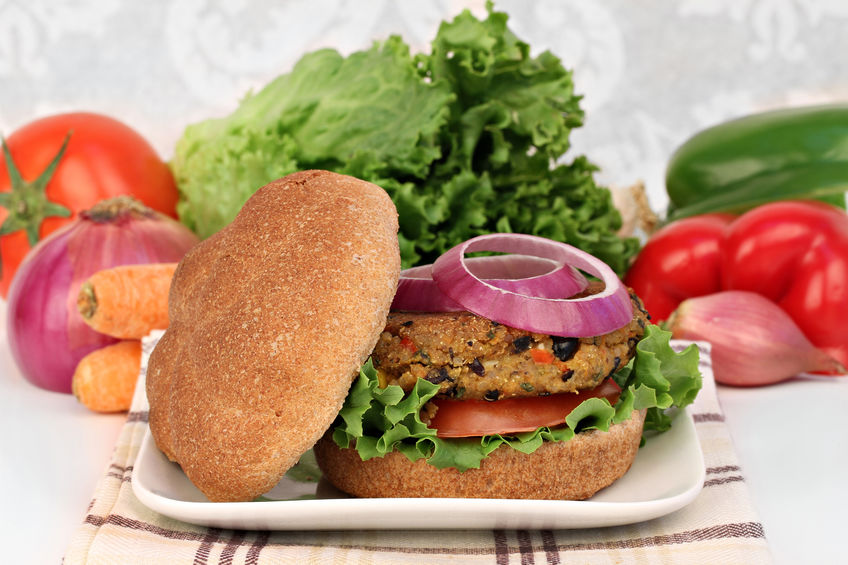 Quick Black Bean Burgers

BBQ Jackfruit Sliders

Butternut Squash Mac & Cheese

Creamy Vegan Cauliflower Mashed Potatoes

Zesty Quinoa Salad

Apple Walnut Chickpea Salad

Vegan Nacho Cheese Sauce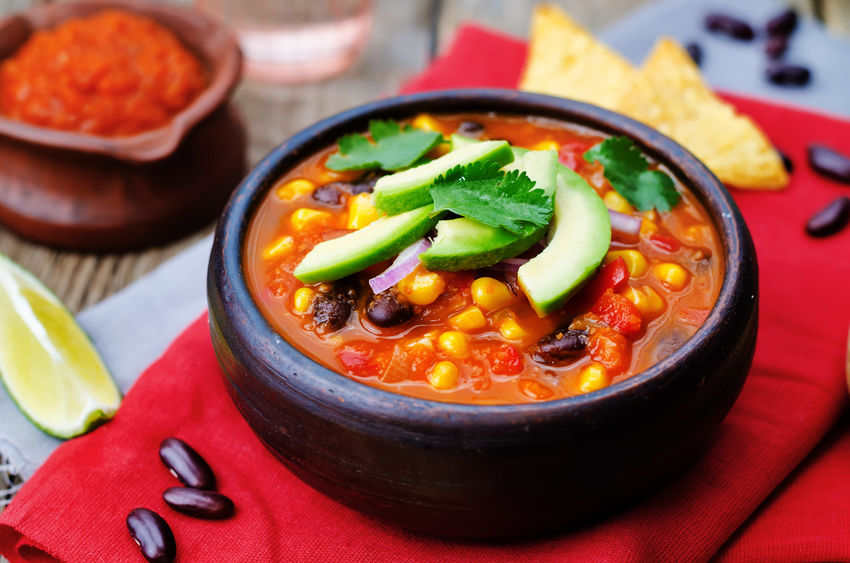 Black Bean & Corn Street Tacos

One Pot Enchiladas

Roasted Veggie Fajitas

Chipotle Inspired Burrito Bowl

Chili Roasted Chickpeas

Taco Beans & Greens Soup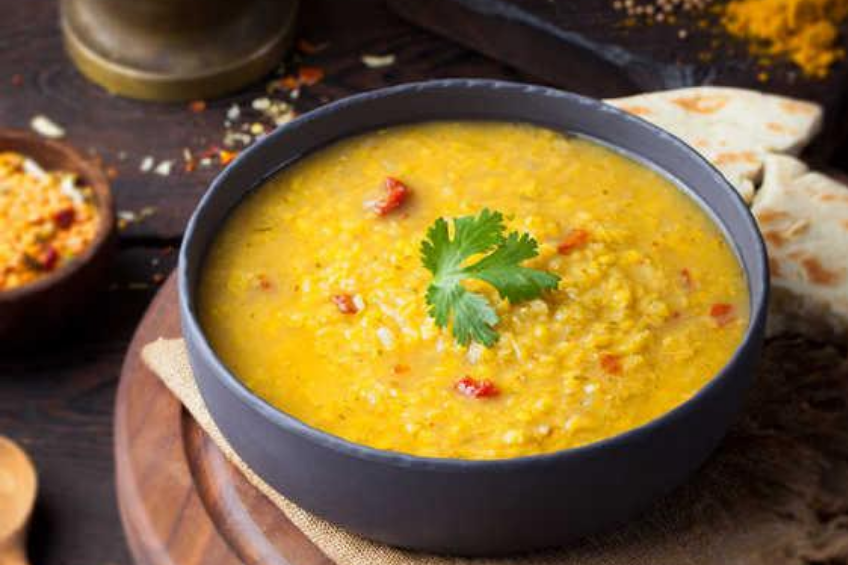 ETHNIC
Quick Indian Chickpea Coconut Curry

Thai Peanut Noodles

Mediterranean Veggie Sandwich

Spanish Style Rice & Beans

Creamy Curry Red Lentil Soup

Classic Hummus
No-Oil Pita Chips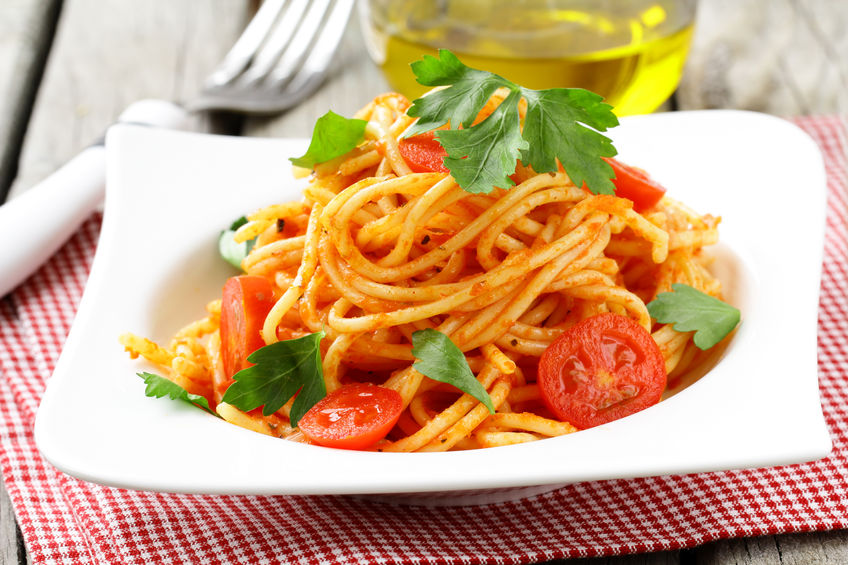 ITALIAN
Spinach Mushroom Bow Tie Pasta

Quick Pineapple Veggie Pizza

Italian Polenta with Sauteed Spinach & Marinara

Avocado Alfredo Fettucini & Broccoli

Italian Cashew Creamed Kale

Simple Vegetable Marinara Pasta

No-Meat Balls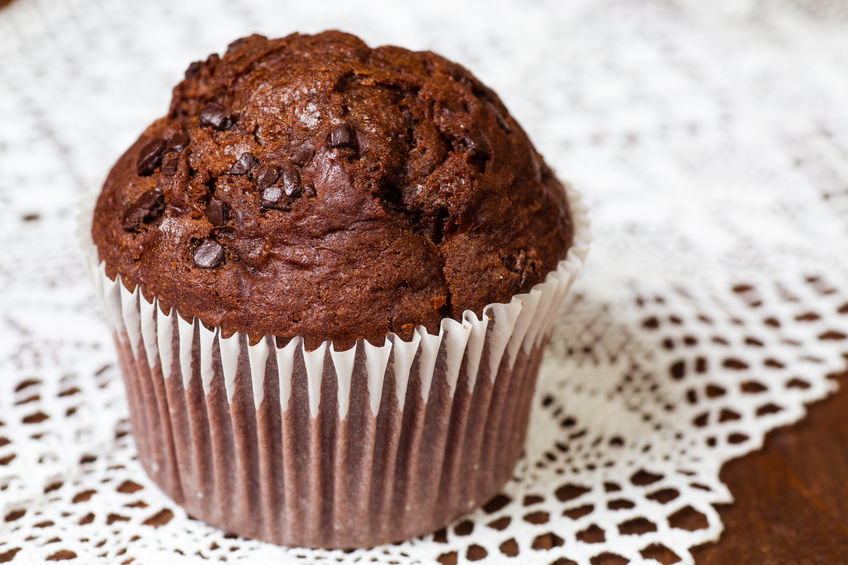 DESSERTS
Vegan Chocolate Chip Muffins

Mango Nice Cream

Banana Oat Cinnamon Bars

 

No-Bake Coconut Lemon Bars

Peanut Butter & Chocolate Nice Cream
See what others are saying about The Quick and Easy Plant Based Plan...
"I purchased your plan based on the title alone. I thought it would be another resource to add to my stash. Your plan exceeded my expectations and I'm excited to say I love all of it! I have already tried three recipes - Pineapple Power Smoothie, Garlic Cashew Cream Sauce, and Spinach Mushroom Bow Tie Pasta. All were delicious. I started cooking from the plan immediately because I had all the ingredients (well, except the bow tie pasta. I used angel hair). Going through the recipes I can see myself creating meal plans from this one book. Thank you for sharing your story and recipes of fast, easy meals. Using your book I feel I can better sustain going 100% plant based and truly make it my lifestyle." - GENA CRUMP
"I'm new to this way of eating, so this plan gave me a lot of information to change my way of eating. I tried the Vegan Nacho Cheese Sauce and loved it! Looking forward to trying more recipes!"- HOPE HUBMAN
"Thai Peanut Noodles: I love love love this recipe! I have been looking for something like this ever since I started eating WFPB. My pickiest eater exclaimed, "This is amazing!" The seasonings on the Chili roasted Chickpeas are perfect." - JESSICA CISZEWSKI
"I love the 30 minutes recipes. This is just perfect for a busy person!" - MOLLIE LOUZRI
"I tried 3 of the recipes: The spinach mushroom bowtie pasta, the zesty quinoa salad and the mango nice cream. All the recipes were excellent. They were simple, quick and easy to follow and the instructions were clear. They tasted really good. I really appreciated how quick they were to zip up as time is short in my household. Thank you so much for sharing your cookbook with me, it is well thought out and I enjoyed them all." - MICHELLE CRAWFORD
"I just had the avocado toast with arugula!!! YUMMMO!! I love the addition of the everything bagel seasoning, that takes it over the top for me!!! Great recipe!!!" - PAULA SANTOS
"This Raspberry Chia Seed Pudding was surprisingly good. I've made chia seed puddings before and didn't quite like them. This one I could definitely see making again. I substituted the walnuts with sliced almonds but other than that made no changes from the recipe. The almonds, fresh raspberries, and sliced bananas freshened up the chia seeds and broke them up so you weren't just eating chia seeds. I love that vanilla was added to the unsweetened and unflavored almond milk so you know exactly what you're eating. I can see this recipe going on a regular rotation for breakfast. It also sticks with you. I ate at 8:30 in the morning, didn't snack, and only made lunch at 12:30 because my kids were hungry and less so because I was hungry." - KYRA DELANEY
"The coconut curry was quick, easy & delicious! Will definitely make it again! The pineapple veggie pizzas were delicious! It tasted like a cheat meal!" - AMY VAWTER
"The BBQ Jackfruit Sliders and Classic Hummus were both easy and delicious. I had tried the jackfruit before and it was ok but with your added onion, garlic and spices it really added flavor and was a hit for football today. We also tried the hummus dip which we had wanted to learn how to make before but were not sure how. Easy recipe with simple ingredients!" - REBECCA JIMENEZ
Frequently Asked Questions
WHAT IS INCLUDED WITH THE QUICK AND EASY PLANT BASED PLAN?
You'll receive a PDF digital copy of my The Quick and Easy Plant Based Plan which will show you how simple & easy plant-based eating can be.
Let's save some trees!
All pages are PRINTER FRIENDLY and can be downloaded or viewed on any device.
ARE THE NUTRITIONAL VALUES INCLUDED?
YES! Every single recipe has the nutritional values included. Calories, fat, saturated fat, carbohydrates, sugar, fiber, sodium, protein, and basic vitamins & minerals. If you change any ingredients or types of products used (ie. different sodium content than suggested) then that would, of course change the nutritional values.
WHAT FORMAT DOES THIS PLAN COME IN?
The Quick and Easy Plant Based Plan is only available in digital PDF format. All pages are printer friendly and can be viewed and downloaded on your computer, tablet, or digital phone.
WHAT IS YOUR RETURN POLICY?
I offer a 30 day 100% money back guarantee if you are not completely satisfied with your purchase. No questions asked! So try the plan and if it doesn't fit your needs, then just ask for a refund within 30 days!
HOW SOON AFTER PURCHASING WILL I RECEIVE MY PRODUCT?
Instantly! As soon as you purchase the plan, you'll get an email with a link to download it. If you don't see it, check your spam folder or send me an email - [email protected] and I can help you out.
ARE THE RECIPES WHOLE FOOD PLANT BASED & VEGAN?
Yes! ALL the recipes are whole food plant based and vegan. They are no oil, low sodium, no refined sugar, and whole grain. I even give you lots of information about a whole food plant based diet, in case you are just starting out! And some cooking tips to learn how to cook oil free. The salt is adjustable based on your preferences.
DO RECIPES CONTAIN MAPLE SYRUP, HONEY, OR COCONUT SUGAR?
There are only 7 recipes that contain maple syrup and you can leave this out if you prefer. NO recipes contain any honey or coconut sugar. 
ARE THE RECIPES GLUTEN FREE?
Many of the recipes are gluten free or can be MADE gluten free EASILY. For example, any pasta recipe can use a gluten free bean flour pasta and any recipe using whole wheat flour, you can sub oat flour or almond flour.
READY TO GET STARTED? 
Simply click the button below to get yours TODAY.